When Facebook was listed earlier this year, we suggested the stock would be trading around 1o USD before any serious investor would feel the urge to start buying. Having dropped close to 50% from the IPO price, Facebook is surely making investors nervous. The stock has speculative weak hands stuck with stocks they don't want. Rinsing out those will take longer than many anticipate. After disappointing many last weeks, Facebook continued the free fall today. From Bloomberg.
"There were obviously some people who didn't want to sell on the first day in anticipation that you would see some stabilization and the stock price sort of return a little bit," saidMark Harding, an analyst at JMP Securities LLC who has a market outperform rating on the stock and doesn't own it. "Perhaps they're disappointed by the lack of a recovery, and maybe now they're using the opportunity to perhaps pare back."
But perhaps possibly much more disturbing facts regarding Facebook's ads is this article "sotfly" suggesting the ads business could be a scam.
Much has been said about the Facebook IPO. "This time is different, you don't understand the future" and other stupid arguments.
As reality bites, we have to review what the Oracle said prior to the Facebook frenzy.
If you missed it, the must see Facebook IPO video from last year, and yes, we expect the stock to reach 10 handles sooner than later.
Investors have been swamped with Greek polls and Spanish Bank(ia) imploding, so we feel many might just be forgetting about the hottest IPO in recent years, namely Facebook. The IPO has been a rather pathetic show, where investors now are suing Facebook, Morgan Stanley etc. What if Facebook screwed up "solo"? From Washingtonm Post.
There's been a ton of coverage about the Facebook IPO disaster, but very little of it looks at the crucial point two weeks ago where things went terribly wrong. It's becoming increasingly clear that Facebook itself messed up at that juncture.
The screw-up resulted in a major disappointment in Facebook's stock debut: The stock's 15 percent decline since the IPO last Friday may not in itself be tragic. But worse, lawsuits are flying saying that legal guidelines weren't followed. And there's the sad fact that regular mom-and-pop investors were apparently left with the more losses on average than large institutions who got privileged information. This all was aggravated by a separate annoyance: glitches in the Nasdaq stock market trading process, which caused delays in trade and cancel confirmations, among other things.
However, based on a number of interviews VentureBeat has had with observers and other sources close to the process, it's apparent that Facebook itself may be most to blame for the fallout. Facebook chose to be more furtive in public announcements about its business than it was in private talks with large investors.
Once again, the wise guys sold the top. In 2000 Goldman Sachs went public, in 2007 Blackstone went public, in 2011 Glencore went public, and the latest top seller is Facebook. Congratulations to the smart guys…
…and yes, FB is below the IPO price already.
In this complex world, investors still focus on one subject only. Last week was JPM, this week is all about Facebook. Let's not forget about Spain, Greece and others with all this Facebook frenzy. FB will be a great trading stock, but value investors should go somwhere else. Guest post by Azizonomics.
What is there to say about Facebook?
Why would anyone buy a company's stock when they have no real profit pedigree? When their advertising profit in 2011 came to just over $1 billion, and their book value is the region of $100 billion, how can that really make any sense other than to the kind of nutcase zombie trader who takes Jim Cramer seriously? The sad truth is that people are just not clicking the ads; Facebook ads receive far fewer clicks than competitors such as Google's AdSense.
If Facebook was floating with a book value of $5-10 billion (or around $2-4 per share) we would be talking about a serious business proposition, albeit one which is already rather saturated (given that there are 2.3 billion internet users, and Facebook already has its claws into 900 million of them). But at these levels? What are people paying for?
Some say the name recognition and momentum (but that's just paying for hype) as well as the infrastructure and data that Facebook owns. Certainly five or six years of a big chunk of humanity's likes and dislikes is a valuable database. But how do they monetise that? Does Zuckerberg have any credible plan?
Today was all about Facebook. Facebook set a new record 0.9 fantaseconds (trades before quotes!?). As always, market microstructure insight by Nanex.
The first warning sign, was the delay in trading. Here's the status messages from Nasdaq for that day.
---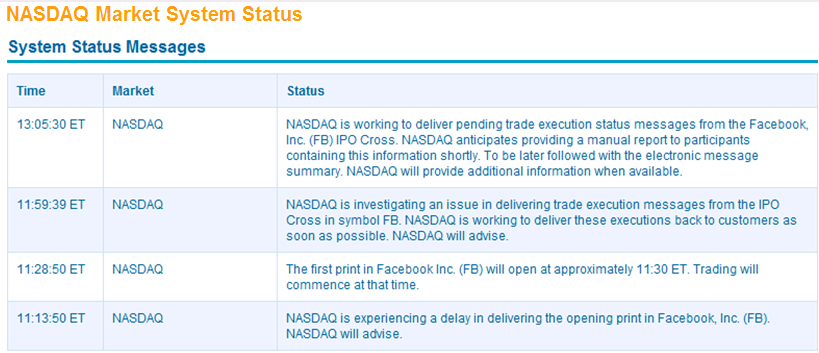 ---
Continue reading
This is what the Oracle thinks. Nothing new, but worth reviewing
Video below.
Market thoughts by Biderman,
A major stock market event will occur later this week when Facebook goes public. Stocks and gold likely will keep selling off until the Facebook offering hits the market. And everything else being equal, I then expect a sharp rebound in stocks and gold after the offering.
I personally will be buying Facebook and gold on the IPO day.
The Biderman Market Theory says all there is in the stock market are shares of stock. Not very complicated. 80 percent of all shares are held by mutual funds, Exchange Traded Funds, hedge and pension funds and family offices. Money flows in and out of those institutions.
Now Facebook will be selling anywhere from $12 billion to $15 billion of new shares in a few days. The main reason stock prices have being going down recently is that there is not $12 to $15 billion in cash sitting on the sidelines waiting for this deal. That means almost all the money that will going into Facebook has to come from the sale of existing stocks or gold. Video below.
While the world is getting prepared for the FB hype, let's review the pros vs cons of the stock.
Video below, courtesy Omid Malekan.
Sometimes shit happens, even if you sell your company for one billion USD.
These guys  know how to celebrate properly. We can only say one thing; Congratulations!