Today was all about Facebook. Facebook set a new record 0.9 fantaseconds (trades before quotes!?). As always, market microstructure insight by Nanex.
The first warning sign, was the delay in trading. Here's the status messages from Nasdaq for that day.
---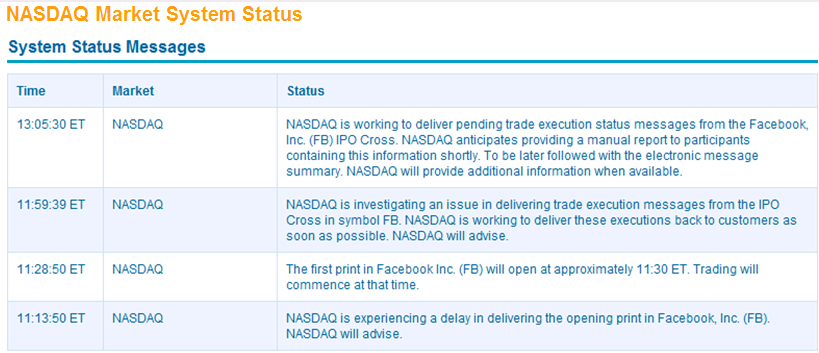 ---
Continue reading
This is what the Oracle thinks. Nothing new, but worth reviewing
Video below.
Guest post by Azizonomic.
I am not exaggerating.
This is Finnish writer Pentti Linkola — a man who demands that the human population reduce its size to around 500 million and abandon modern technology and the pursuit of economic growth — in his own words.
He likens Earth today to an overflowing lifeboat:
What to do, when a ship carrying a hundred passengers suddenly capsizes and there is only one lifeboat? When the lifeboat is full, those who hate life will try to load it with more people and sink the lot. Those who love and respect life will take the ship's axe and sever the extra hands that cling to the sides.
He sees America as the root of the problem:
The United States symbolises the worst ideologies in the world: growth and freedom.
He unapologetically advocates bloodthirsty dictatorship:
Any dictatorship would be better than modern democracy. There cannot be so incompetent a dictator that he would show more stupidity than a majority of the people. The best dictatorship would be one where lots of heads would roll and where government would prevent any economical growth.

We will have to learn from the history of revolutionary movements — the national socialists, the Finnish Stalinists, from the many stages of the Russian revolution, from the methods of the Red Brigades — and forget our narcissistic selves.

A fundamental, devastating error is to set up a political system based on desire. Society and life have been organized on the basis of what an individual wants, not on what is good for him or her.
Interview with one of our frequent readers, Larry Tentarelli.
Michael Covel talks to trader Larry Tentarelli. Tentarelli started trading his own account after leaving Merrill Lynch in 2003. Covel explores some of Tentarelli's influences: from Napoleon Hill (taking accountability for your own actions), to Jesse Livermore ("The money isn't made in the daily fluctuations; the money is made in the big swings"), to Ed Seykota ("everybody gets what they want"). You don't have to be a computer engineer or rocket scientist to come up with a trading system, nor do you have to have all the time in the world: Tentarelli spends less than 15 minutes a day on average trading his own programs. He also relates several "light bulb" moments he had that led him into trend following: from an investment in Chinese oil to reading about Tom Basso's experiments with coin flips to determine entry points. Further topics include the distinction between predictive and reactive technical analysis; the importance of connecting and asking questions to those who have more experience than you; and the idea of knowing what you want out of the market.
Full interview worth listening to here.
Guest post by Vix and more.
With a half hour to go in today's trading session, over one million put contracts have already been traded on the S&P 500 index, which is about 2 ½ times the average daily volume. This elevated put volume comes on top of 913,000 SPX put contracts yesterday, which was the second highest for 2012.
The one million level is rarely seen in SPX puts and generally indicates an extreme amount of hedging on the part of institutional investors, as well as increased speculative activity.
Looking at the chart below, which goes back two years, one can see that in those rare instances when put volume (vertical red bars on lower half of chart) reached one million, this typically coincided with a bottom in stocks.  [Edit:  today's finally tally is 1.28 million SPX puts, the highest total since August 9, 2011]
In addition to puts in the SPX, I also closely follow the ISEE equities only call to put ratio. The indicator I have developed which is based on the ISEE is now showing is greatest contrarian bullish bias (due to a preponderance of put volume) since the end of June 2010, just two days before the SPX put in an key bottom at 1010.
Of course, history is not guaranteed to repeat itself or even rhyme in the face of the current worries about Greece and Spain, but the odds now favor stocks finding at least a short-term bottom very soon.
Ft.com
The Spanish government called for investor calm on Thursday as shares in Bankia, the country's second-largest bank by domestic deposits, tumbled nearly 30 per cent and Moody's conducted a sweeping downgrade of other lenders. Further fuelling the sense of unease among eurozone banks, the government in Cyprus announced it would underwrite a €1.8bn capital raising by Popular Bank of Cyprus that analysts said could force the tiny island nation to seek bailout assistance from Brussels. http://www.ft.com/intl/cms/s/0/1c0fd102-a046-11e1-90f3-00144feabdc0.html#axzz1vC4kvAGM
Facebook set the share price for its initial public offering at $38, giving the social-networking company a $104bn valuation and propelling it into the ranks of the top 25 US public companies. Mark Zuckerberg, the 28-year old founder and chief executive, raised $1.1bn, leaving him with a stake valued at $19bn, firmly establishing him as one of the richest men in the world.http://www.ft.com/intl/cms/s/0/e7b43504-a051-11e1-88e6-00144feabdc0.html#axzz1vC4kvAGM
An oil tanker belonging to Iran's state-owned shipping line has been switching flags and using multiple companies to transport crude from Syria to Iran, illustrating how Tehran is helping to sidestep international efforts to choke the finances of Bashar al-Assad, Syrian president. Documents obtained by the Financial Times show the vessel, operated by the Islamic Republic International Shipping Lines, sailed from Syria to the Gulf of Oman and then Iran, using different flags and changing owners. http://www.ft.com/intl/cms/s/0/9704c760-9abe-11e1-9c98-00144feabdc0.html#axzz1vC4kvAGM
The US said it "welcomed" the evolution" of debate in Europe towards growth on the eve of a G8 summit that could see Angela Merkel, Germany's chancellor, isolated as other world leaders push her to help stimulate the economy in Europe. In a move to make the G8 less formal and more productive, Barack Obama will host the group – whose economic policies could sway his re-election prospects this autumn – away from the media at the presidential retreat of Camp David, Maryland. http://www.ft.com/intl/cms/s/0/0668fb34-a038-11e1-90f3-00144feabdc0.html#axzz1vC4kvAGM
All news below.