Guest Post by Macro Story.
Can you guess the year? Some notable quotes, announcements of government "fixes" and an SPX chart are provided for your assistance.
Some "Infamous" Headlines
"The surge came as governments and central banks around the world mounted an aggressive, coordinated campaign to unlock the global flow of credit, an effort that investors said they had been waiting for."
"He mentioned that the last time we had a "rally this big" was in March of 1933. Karen Finerman said the rally was "extraordinary to the upside,"
"The market clearly was getting priced for an Armageddon, a depression, for the end of Western civilization as we know it," said Edward Yardeni, the investment strategist. "A lot of people realized these were extraordinarily good prices to buy stocks."
We are used to watching M15, Egypt, Tunisia and Greece on UStream. Now the protests seem to escalate in the US. As we have argued for a long time, the increasingly polarized US Society, needs to get used to increased social unrest.
Video below.
How to survive the next Flash Crash, beyond circuit breakers. By Lawrence Berkeley National Laboratory.
This paper describes collaborative work between active traders, regulators, economists, and super- computing researchers to replicate and extend investigations of the Flash Crash and other market anoma- lies in a National Laboratory HPC environment.
Our work suggests that supercomputing tools and methods will be valuable to market regulators in achieving the goal of market safety, stability, and security. Research results using high frequency data and analytics are described, and directions for future development are discussed.
Quick market update. Trading once again dominated by news of how to save Europe, despite Merkozy's great accomplishment over the weekend. Maybe the plan, still without details, isn't offering anything but words. Yes, Dexia was nationalized over the weekend, but that shouldn't be a surprise, Fanny and Freddie also got the supporting hand of the government. That was the last leg up in 08, before the markets collapsed.
With extremely high correlation, HFT continue churning stocks, in this flip flop market. As mean reversion is at extreme levels, all big days up/or down, are all offset within 24 hours.
What goes up must come down….
Guest Post:
With all the financial happenings throughout the globe, the burning question in the minds of the economists, investors and the laymen is whether or not the world economy is heading for yet another double-dip recession in 2011. Though this may seem to be inconceivable by the top economists throughout the globe, the governmental authorities throughout the world are of the opinion that the warning signs of the economy sleepwalking into another recession is just round the corner. People all over the world are running for debt help as they find themselves drowning in a sea of high interest debt. Not only are the laymen, the governments of most countries indebted to the other nations. If you're unaware of the signs of a double-dip recession, read on.
If it wasn't for those Germans, Europe would be slightly worse off….Presented without comment.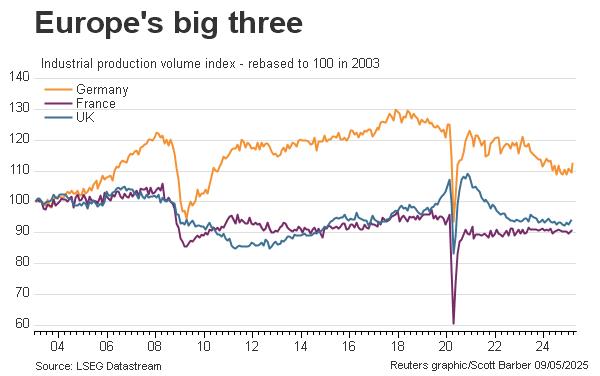 Performance charts below…
HFT, Algos, DMA are here to stay, at least for a short period. FIA, European Principal Traders Association, on Automated Trading, Investment Firms and Competent Authorities.
The FIA European Principal Traders Association (FIA EPTA) appreciates the opportunity to comment on the ESMA Consultation Paper "Guidelines on systems and controls in a highly automated trading environment for trading platforms, investment firms and competent authorities" (the Consultation Paper).
FIA EPTA members engage in manual, automated and hybrid methods of trading on exchanges located around the world and are active in cash and derivatives in a variety of asset classes, such as equities, foreign exchange, commodities, and fixed income. In their capacity as principal traders, these firms only trade for their own accounts and represent a substantial part of the traded volume on European regulated markets and MTFs.
Markets are once again moving on news out ofEurope. Trichet's speech, closely monitored by the HFT Community, have accomplished moves of more than 1%, both up and down, on no volume. After we reached major resistance levels in yesterday's Columbus squeeze, on very light volume, the rally will lose steam. As the markets trade in flip flop fashion, the great squeeze might turn into another  flash move to the downside. Note how the Stoxx 50 is underperforming the DAX compared to yesterday's US opening. Remember, it's the Stoxx 50 that has all the banks…
As Trichet is speaking, and HFT listening, markets move as usual on no volume, where the speed of light is determining bid/offer spreads. Before considering buying this no volume melt up we have witnessed lately, please review some of the news Trichet is delivering.
*ECB'S TRICHET SAYS CONTAGION THREATENS FINANCIAL STABILITY – BLOOMBERG
*TRICHET SAYS LIQUIDITY AND FUNDING RISKS ARE `HEIGHTENED' – BLOOMBERG
*TRICHET SAYS EURO CRISIS HAS REACHED `SYSTEMIC DIMENSION' -BLOOMBERG
And the reaction….
Ft.com
LMS Capital's non-executive directors have proposed to wind down the London-listed private equity group's portfolio and stop investments in a strategic U-turn triggered by pressure from Robert Rayne,http://ftalphaville.ft.com/thecut/2011/10/11/698426/lms-plans-to-wind-down-portfolio/
A British Chambers of Commerce survey shows businesses have pared back their investment plans as sales and orders deteriorate. The BCC called the results of the survey of 6,700 businesses "disappointing and worrying".David Kern, http://ftalphaville.ft.com/thecut/2011/10/11/698406/uk-businesses-pare-back-investment-plans/
Plans to build a new generation of nuclear power stations in the UK are expected to receive a green light today from the final report on lessons from the Fukushima disaster in Japan, the FT reports. The government asked Dr Mike Weightman, http://ftalphaville.ft.com/thecut/2011/10/11/698396/report-set-to-give-go-ahead-for-nuclear-reactors/
Walmart, the US retailer, has closed 13 stores in south-western China after police detained a number of store managers following allegations that employees labelled ordinary pork as organic, the FT reports. The http://ftalphaville.ft.com/thecut/2011/10/11/698371/china-detains-walmart-store-managers/
Global regulators insist the economic cost of implementing tough new rules on bank capital requirements will have only a tiny effect on global growth, with their latest estimate putting the impact at barely a tenth of the industry's own projection, http://ftalphaville.ft.com/thecut/2011/10/11/698346/fsb-basel-stand-up-for-new-capital-rules/