Two Charts by D Short that make you wonder about the American Dream. The Average Joe is incurring more debt for education, paying more for medical costs, while not adding to income growth, unless you join the banksters team. All this, while life expectancy is not better than the rest of the Western World. Social Unrest Next?
The Silver and Gold collapse has attracted many pundits and their beliefs of what is going on. Copper, not in fashion these days, is by many called Dr Copper. Wonder why? It is highly correlated to the SPX and a good measure of the Economy. Copper, having "collapsed" during the past week, is implying SPX to trade lower. Last time Copper traded at these levels, SPX traded at 1050.
Market Trading on relatively low volume, with no real conviction. Rather squeezed trading session, as we bounce off last night's "sell off".
SPX
Mr Price gives his view on mankind, politics and the importance of gold.
Indeed, United Europe is falling apart. By the time you read this, it may already have collapsed. But it is falling apart not because of a lack of "Fiscal Union". It is collapsing because of the absence of the fundamental means for free international collaboration, based on the realities of each nation of Europe: there is no gold standard at work.
Somewhere in his books, Ludwig von Mises states that the beginning of the end of the Austrian Empire came when the gold coin stopped circulating in the Empire. It was this stable and trustworthy money that had held together an Empire made up of several nations with very different cultures. When the gold coin disappeared, the unifying factor was gone as well.
Gold is the money for societies made up of men and women who wish to live in the real world.
This is part of the trouble in our declining civilization: men and women in these times wish to live in illusions, and the politicians, the bankers and their economist lapdogs have been providing those illusions for many decades now. Those illusions were enabled by the "Welfare State": Comfort and security from cradle to grave, with no requirement of hard work to merit them. On the other hand, it would also be reasonable to say that men and women today live in illusions, because they were forced to do so by the fiat money they had to use. Once fiat money is in place, all becomes illusion and gambling and people give up trying to make sense of life. Pretty soon they take illusions to be realities.
Full article here.
Ft.com
Asian shares and commodities fell on Thursday, Reuters reports, on growing worries that Europe's intractable debt problems will plunge the world into a second global financial crisis. Copper fell 3 per centhttp://ftalphaville.ft.com/thecut/2011/09/29/688436/slide-continues-in-asian-markets/
Citigroup's chief executive Vikram Pandit says he expects the company will return significant amounts of capital to shareholders from 2012, the WSJ says. Mr Pandit said the bank is still on track to return capital to investors next year, http://ftalphaville.ft.com/thecut/2011/09/29/688421/citi-to-return-capital-to-shareholders-in-coming-years/
Spain, Italy and France have extended bans on the short selling of select banks and other financial stocks, the FT reports. The French and Italian prohibitions are slated to last until November 11, while the Spanish rule remains in force until "market conditions allow" it to be lifted. http://ftalphaville.ft.com/thecut/2011/09/29/688406/spain-italy-and-france-extend-shorting-bans/
ING is selling its stake in Brazil's insurance group SulAmerica in a deal that is likely to be worth at least $1bn, sparking a fierce bidding war in the fast-growing Brazilian market, the FT says, citing people close to the transaction. French insurer Axa and Japan's Tokio Marine have so far emerged as the top bidders for ING's 36 per cent stake in SulAmerica, http://ftalphaville.ft.com/thecut/2011/09/29/688366/bidders-vie-for-ings-brazilian-group-stake
All news continue.
Great piece on the ever increasing stupidity of HFT Machines. No, HFT does not provide liquidity, efficiency, volume etc, but now provides fake trades, that the investor does not see. If anybody can explain the Economic Positive of the below trades, please send us a mail. As usual, great work by Nanex.
Usually when algorithms go haywire in the markets, they execute trades at wild prices; many of which will later be canceled. 'Pretend it didn't happen' is the current mantra of our regulatory agencies. The regulators would also appreciate it if you didn't talk about these events as they could harm investor confidence. What country are we in?
Until firms are held responsible for their actions or the actions of their technology, the haywire algo's (and the companies that deploy them) are free to do it again and again.
Presented below are three examples. You won't find these trades in most databases any longer, they have already been scrubbed (they didn't happen).
The following chart plots quotes and trades of the stock CNTY on 06/21/2011. The stock cycled violently from approximately $2.75 to $8.00 several times: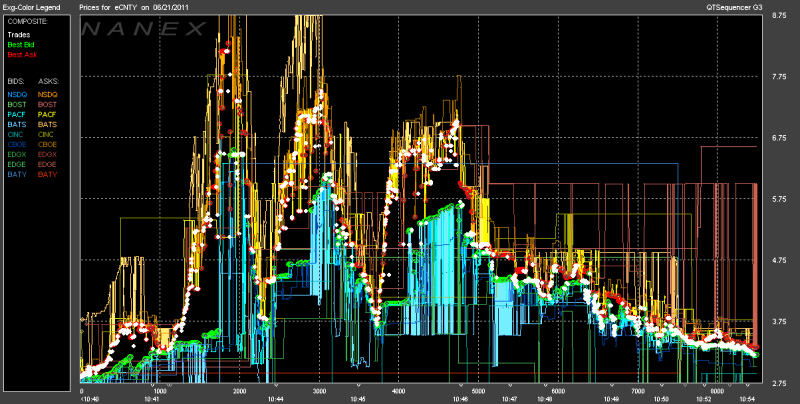 Continue this must read report by Nanex.
As Markets are moving fast, here is a short Update of where we are, both daily and intra day charts. Oil and Metals are also following the risk off trade. US trading on relatively low volume today. Despite all the rumors, EU press releases, markets moving up and down, markets atre trapped in a peculiar trading range.
SPX Daily
NDX Daily
Deja Vú all over again. No more shorting.
ITALY MARKET REGULATOR CONSOB EXTENDS SHORT-SELLING BAN – BBG
SPAIN'S CNMV REGULATOR EXTENDS SHORT-SELLING BAN – BBG
Last time they imposed stupidy markets collapsed. Now we just need some scape goats, and lack of competence will be complete.
Market reaction to the new Shorting Ban is a sell off…..
Quick Recap of Short Term Charts. Europe has fallen out of the channel, while SPX still trades within the short term channel. Many of the high beta stiocks that took off brutally yesterday, are falling quite hard today. Interesting times ahead.
While the Equities market continue the HFT Domination, where now the latest is RumorAlgo HFT, the Credit Markets imply a much worse outlook of the Economy. Credit Markets actually do measure the Economy, while Equities Market more resemble a trip to Disneyland. Despite the many wishes out of European politicians, where we get mixed signals on a real time basis, Credit Markets are suggesting trouble ahead. Credit Markets are in a free fall mood. What Markets to trust, is up to the individual investor. We know our preference. Some Credit Markets Charts Update below, courtesy Macro Story.
5 Yr Swaps
Eurodollar Deposits. Out of Europe we hear they don't need USD funding, but the charts suggest another story.