Great piece on the ever increasing stupidity of HFT Machines. No, HFT does not provide liquidity, efficiency, volume etc, but now provides fake trades, that the investor does not see. If anybody can explain the Economic Positive of the below trades, please send us a mail. As usual, great work by Nanex.
Usually when algorithms go haywire in the markets, they execute trades at wild prices; many of which will later be canceled. 'Pretend it didn't happen' is the current mantra of our regulatory agencies. The regulators would also appreciate it if you didn't talk about these events as they could harm investor confidence. What country are we in?
Until firms are held responsible for their actions or the actions of their technology, the haywire algo's (and the companies that deploy them) are free to do it again and again.
Presented below are three examples. You won't find these trades in most databases any longer, they have already been scrubbed (they didn't happen).
The following chart plots quotes and trades of the stock CNTY on 06/21/2011. The stock cycled violently from approximately $2.75 to $8.00 several times: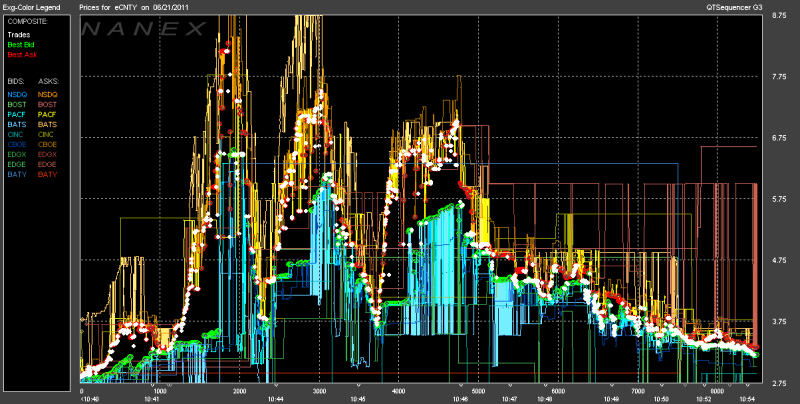 Continue this must read report by Nanex.
As Markets are moving fast, here is a short Update of where we are, both daily and intra day charts. Oil and Metals are also following the risk off trade. US trading on relatively low volume today. Despite all the rumors, EU press releases, markets moving up and down, markets atre trapped in a peculiar trading range.
SPX Daily
NDX Daily
Deja Vú all over again. No more shorting.
ITALY MARKET REGULATOR CONSOB EXTENDS SHORT-SELLING BAN – BBG
SPAIN'S CNMV REGULATOR EXTENDS SHORT-SELLING BAN – BBG
Last time they imposed stupidy markets collapsed. Now we just need some scape goats, and lack of competence will be complete.
Market reaction to the new Shorting Ban is a sell off…..
Quick Recap of Short Term Charts. Europe has fallen out of the channel, while SPX still trades within the short term channel. Many of the high beta stiocks that took off brutally yesterday, are falling quite hard today. Interesting times ahead.
While the Equities market continue the HFT Domination, where now the latest is RumorAlgo HFT, the Credit Markets imply a much worse outlook of the Economy. Credit Markets actually do measure the Economy, while Equities Market more resemble a trip to Disneyland. Despite the many wishes out of European politicians, where we get mixed signals on a real time basis, Credit Markets are suggesting trouble ahead. Credit Markets are in a free fall mood. What Markets to trust, is up to the individual investor. We know our preference. Some Credit Markets Charts Update below, courtesy Macro Story.
5 Yr Swaps
Eurodollar Deposits. Out of Europe we hear they don't need USD funding, but the charts suggest another story.
Chart Englund.
As Europe's Economy is falling, and several countries basically are bankrupt, an effect by taking on too much debt, while the Economy abruptly slowed, why not take a look at how Sweden solved the Banking Crisis in the early 90′s. Sweden, now the Tiger of Europe, dealt with the Banking Crisis in a very organized and effective fashion. The Swedish way has a lot to teach the politicians of Europe, who give us conflicting messages on a daily basis. Below a great summary of the Swedish Crisis, what caused it and how Sweden solved it, and became one of the most healthy Economies of the World.
Euro Tarp, put it on your mind, as we will hear more about it. There are some "intelligent" people, trying to design the EZ Bail out. Once again, the set up needs to be geared, full of crap assets. Sounds familiar? The biggest problem with Europe beside the Debt problems, is the lack of growth. Europe is like an old lady nobody wants to dance with anymore, and that is irrespective of what make up you put on.
On the Euro Tarp by Streettalk;
The Eurozone bailout, now being referred to as Euro TARP, is doomed to fail.  While nothing has been officially announced the markets are rallying broadly on the back of a news article published by CNBC on Monday. The details are lacking as to the actual structure but speculation is already running rampant across the financial markets as to what it might look like.
What is presumed is that Euro TARP will follow the proposal originally proffered by Tim Geithner on his European trip recently.  That proposal had been widely dismissed by the G20 as they couldn't come to terms on any type of structure.   The current idea outlined by CNBC will bypass the G20 entirely and allow the European Investment Bank (EIB), a bank owned by the member states of the European Union, to take money from the European Financial Stability Facility (EFSF) and capitalize a special purpose vehicle (SPV) that it will create.
The SPV will then issue bonds to investors and use the proceeds to purchase sovereign debt of distressed European states, which will hopefully alleviate the pressure on the distressed states (PIIGS) and the European banks that already own their sovereign debt.
Full article here.
Day starts with a 1,6% Squeeze in the European Markets. Europe outperforming the ES Futures yet another day. Stoxx futures.
More charts below.
Ft.com
Citic Securities, China's biggest publicly-traded brokerage, raised HK$13.2bn ($1.7bn) selling shares at the low end of a revised price range in Hong Kong, Bloomberg reports, citing two people with knowledge of the matter. The Shanghai-listed company sold 995.3m shares at HK$13.30 each, http://ftalphaville.ft.com/thecut/2011/09/28/687456/citic-securities-said-to-raise-1-7bn/
Anadarko Petroleum has asked advisers to sound out potential buyers for a collection of its Brazilian oil assets in a deal that could be worth up to $5bn, in the latest attempt by oil and gas explorers in the region to attract investment, http://ftalphaville.ft.com/thecut/2011/09/28/687421/anadarko-sounds-out-brazil-buyers/
Banks are being discouraged from big project-finance deals by new global capital rules and the eurozone crisis, the FT says, citing market participants who say infrastructure schemes will increasingly be funded by investors. Standards ordered by the Basel committee of international regulators will make large long-term loans harder to hold on banks' balance sheets, http://ftalphaville.ft.com/thecut/2011/09/28/687371/banks-wary-of-financing-big-projects-2/
Market expectations for US inflation have dropped to their lowest level in a year and are now below the Federal Reserve's unofficial target, as investors respond to the central bank's latest attempt to stimulate the economy,http://ftalphaville.ft.com/thecut/2011/09/28/687321/us-inflation-expectations-lowest-for-a-year/