The trader wrote about the market reaching some support levels in the Equities Markets yesterday, while Gold looks somewhat short term toppish. The market is continuing the climbing of the Wall of Worry, on low volume. What if Nasdaq starts taking us higher, and crushes all those bearish views out there? Could we possibly be seeing an inverted head and shoulders formation that could take Nasdaq well above the big resistance level. Such a move up, could be the last "get everybody go long", before we finally start the big move down.
while Gold is topping out as we suggested yesterday,
So what would happen if US Defaults? It is not likely the US would Default, because the consequences would be huge. Forget Default, say Hello to more money printing.
Simon Johnson reports,
Leading United States congressmen are determined to provoke a showdown with the Obama administration over the federal government's debt ceiling. Ordinarily, you might expect House Republicans to blink at this stage of the negotiations, but there is a hardline minority that actually appears to think that defaulting on government debt would not be a bad thing.
These representatives – with whom I've interacted at three congressional hearings recently – are convinced that the US federal government is too big relative to the economy, and that drastic measures are needed to bring it under control. Depending on your assessment of "Tea Party" strength on Capitol Hill, at least a partial debt default does not seem as implausible as it did in the past – and recent warnings from ratings agencies reflect this heightened risk.
But the consequences of any default would, ironically, actually increase the size of government relative to the US economy – the very outcome that Republican intransigents claim to be trying to avoid.
The reason is simple: a government default would destroy the credit system as we know it. The fundamental benchmark interest rates in modern financial markets are the so-called "risk-free" rates on government bonds. Removing this pillar of the system – or creating a high degree of risk around US Treasuries – would disrupt many private contracts and all kinds of transactions.
From Gold Core,
Many market participants are expecting a correction in gold at the psychological level of $1,600/oz.
This is quite possible given corrections often take place after reaching record round number highs. Also, corrections tend to happen when there is a lot of noise in the press and media.
Gold's record high in all currencies is front page news in the Financial Times today which would make any contrarian nervous that the recent move is overdone. However, coverage remains very muted in much of the non specialist financial press – many of whom barely covered or did not even mention the new record gold highs.
The man or woman in the street, in Europe and much of the western world, remain blissfully unaware of gold's rising price and unaware of gold's importance as a store of wealth and an important diversification.
Gold is not overvalued – especially in the long term but even in the short term.
Gold at $1,603/oz is only 2.5% above the recent record nominal price seen on April 29th at $1,563.70/oz. Thus, gold has had a two month correction and consolidation prior to reaching the new nominal highs over $1,600/oz.
| | | | | |
| --- | --- | --- | --- | --- |
| Year | Start | End | Gain | Percent |
| 1979 | $234.40 | $563.20 | $328.80 | 140.27% |
| 1973 | $65.10 | $112.25 | $47.15 | 73.56% |
| 1974 | $112.25 | $186.50 | $74.25 | 66.15% |
| 1972 | $43.48 | $65.10 | $21.62 | 49.72% |
| 1978 | $170.30 | $234.40 | $64.10 | 37.64% |
| 1977 | $137.00 | $170.30 | $33.30 | 24.31% |
| 1971 | $37.44 | $43.48 | $6.04 | 16.15% |
Gold's Annual Appreciation in the 1970s
It has passed just a few months since the World was watching the MENA region. Although some of the conflicts have cooled down, the Big potential conflict could erupt shortly, namely Iran's interest in overtaking the Persian Gulf. Below from Stratfor,
Something extraordinary, albeit not unexpected, is happening in the Persian Gulf region. The United States, lacking a coherent strategy to deal with Iran and too distracted to develop one, is struggling to navigate Iraq's fractious political landscape in search of a deal that would allow Washington to keep a meaningful military presence in the country beyond the end-of-2011 deadline stipulated by the current Status of Forces Agreement. At the same time, Saudi Arabia, dubious of U.S. capabilities and intentions toward Iran, appears to be inching reluctantly toward an accommodation with its Persian adversary.
Iran clearly stands to gain from this dynamic in the short term as it seeks to reshape the balance of power in the world's most active energy arteries. But Iranian power is neither deep nor absolute. Instead, Tehran finds itself racing against a timetable that hinges not only on the U.S. ability to shift its attention from its ongoing wars in the Middle East but also on Turkey's ability to grow into its historic regional role.
Get some facts right, before Aug 2nd. Below some points on Myth vs Fact on the Debt Ceiling. There is plenty of money coming in…..
Myth 1: If a deal is not reached by August 2, the U.S. will default on its debt.
Fact 1: The Treasury Department can prioritize payments in order to avoid a default.
The Treasury Department is due to pay off $30 billion in maturing short-term debt. But we also know that the Treasury has the ability to prioritize its payments and pay that particular $30 billion out of the $172 billion it collects in tax revenue. As the Bipartisan Policy Center has calculated, after paying $30 billion in interest payments in August, Treasury could, if it ceased all other functions (see page 13 of this document), also pay for Social Security, Medicare, unemployment benefits, and payments to defense contractors. Technically speaking, there is no need to default in the absence of a debt ceiling agreement.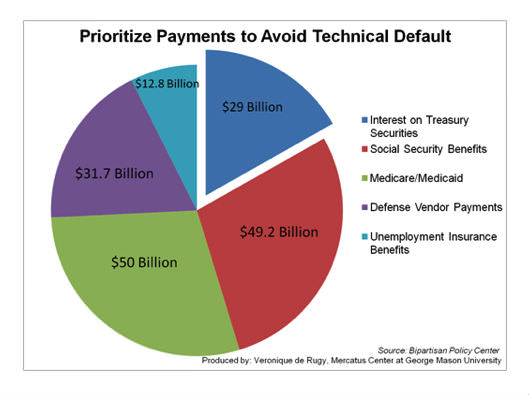 This is not an ideal solution and it entails some significant risks (mainly timing difficulties), but it could be done if necessary.
In addition, the Treasury could sell some of its assets in order to pay the bills. That's an expensive option at this point, since it would probably mean selling them at a low price, but these are not normal times and a fire sale beats a default.
Further reading, Myth vs Fact on Debt Ceiling
Live Blog covering the Murdoch situation. FT Covering the Story,
14.52: RM is under questioning by Labour's Tom Watson. He is using the "I didn't know" defence a lot, and looking quite shaky. His answers are rarely longer than one word. JM keeps trying to jump in, but getting brushed aside by Watson.
14.48: Rupert (RM) is now testifying. He says he was misled about the scope of phone hacking, but doesn't know who misled him. On Rebekah Brooks' comments that News of the World paid police officers for information, RM says he didn't know anything about them at the time, and didn't launch an investigation into them: not least because NotW was a small part of his media empire.
14.47: Did any of the recently departed executives: Rebekah Brooks, Les Hinton or Tim Crone, know about phone hacking? JM says he has no evidence that that is the case.
Principals so important, we decided to give them an exclusive article. Principles by the World's Greatest Hedge Fund Manager, Dalio.
What follows are three distinct parts that can be read either independently or as a connected whole. Part 1 is about the purpose and importance of having principles in general, having nothing to do with mine. Part 2 explains my most fundamental life principles that apply to everything I do. Part 3, explains my management principles as they are being lived out at Bridgewater. Since my management principles are simply my most fundamental life principles applied to management, reading Part 2 will help you to better understand Part 3, but it's not required—you can go directly to Part 3 to see what my management principles are and how Bridgewater has been run. One day I'd like to write a Part 4 on my investment principles. If you are in looking to get the most bang for your buck (i.e., understanding for the effort), I suggest that you read Parts 1 and 2, and the beginning of Part 3 (through the Summary and Table of Principles) which will give you nearly the whole picture. It's only about 55 pages of a normal size book.
Above all else, I want you to think for yourself—to decide 1) what you want, 2) what is true and 3) what to do about it. I want you to do that in a clear-headed thoughtful way, so that you get what you want. I wrote this book to help you do that. I am going to ask only two things of you—1) that you be open-minded and 2) that you honestly answer some questions about what you want, what is true and what you want to do about it. If you do these things, I believe that you will get a lot out of this book. If you can't do these things, you should reflect on why that is, because you probably have discovered one of your greatest impediments to getting what you want out of life.
Full document,
Mr Dalio is running the World's Greatest Hedge Fund and has been very right about the Economy and Markets. He concludes his must read interview from the New Yorker by saying;
"I think late 2012 or early 2013 is going to be another very difficult period"
Full interview from the NewYorker,
Ray Dalio, the sixty-one-year-old founder of Bridgewater Associates, the world's biggest hedge fund, is tall and somewhat gaunt, with an expressive, lined face, gray-blue eyes, and longish gray hair that he parts on the left side. When I met him earlier this year at his office, on the outskirts of Westport, Connecticut, he was wearing an open-necked blue shirt, gray corduroy pants, and black leather boots. He looked a bit like an aging member of a British progressive-rock group. After a few pleasantries, he grabbed a thick briefing book and shepherded me into a large conference room, where his firm was holding what he described as its weekly "What's going on in the world?" meeting.
Of the fifty or so people present, most were clean-cut men in their twenties or thirties. Dalio sat down near the front of the room. A colleague began describing how the European Central Bank had just bought some Greek bonds from investors at a discount to their face value—a move that the speaker described as a possible precursor to an over-all restructuring of Greece's vast debts. Dalio interrupted him. He said, "Here's where you are being imprecise," and then explained at length what a proper debt restructuring would entail, dismissing the E.C.B.'s move as an exercise in "kicking it down the road."
Dalio is a "macro" investor, which means that he bets mainly on economic trends, such as changes in exchange rates, inflation, and G.D.P. growth. In search of profitable opportunities, Bridgewater buys and sells more than a hundred different financial instruments around the world—from Japanese bonds to copper futures traded in London to Brazilian currency contracts—which explains why it keeps a close eye on Greece. In 2007, Dalio predicted that the housing-and-lending boom would end badly. Later that year, he warned the Bush Administration that many of the world's largest banks were on the verge of insolvency. In 2008, a disastrous year for many of Bridgewater's rivals, the firm's flagship Pure Alpha fund rose in value by nine and a half per cent after accounting for fees. Last year, the Pure Alpha fund rose forty-five per cent, the highest return of any big hedge fund. This year, it is again doing very well.
All you need to know, for all news continue
Ft.com
US Senate leaders said the chamber will remain in session until agreement is reached over the US debt limit, Bloomberg reports, as President Barack Obama threatened to veto a proposal to require the government to balance its budget as part of a debt deal http://ftalphaville.ft.com/thecut/2011/07/19/626666/us-bipartisan-deal-still-elusive/
Gold burst through $1,600 an ounce for the first time as the eurozone's escalating debt crisis sent fear through financial markets, the FT reports, taking the metal's price to a nominal record. Markets turned up the pressure on European leaders ahead of a crunch summit on Thursday http://ftalphaville.ft.com/thecut/2011/07/19/626641/gold-soars-as-investors-head-for-safe-havens/
European leaders are looking at ways to keep Greek banks afloat as part of a new €115bn bail-out plan for Athens, the FT says. The plans could add as much as €20bn to an increasingly costly bail-out planhttp://ftalphaville.ft.com/thecut/2011/07/19/626481/european-bank-tax-discussed/
Despite house prices that remain comfortably below their 2007 peak and interest rates at record lows, first-time buyers still find UK house prices unaffordable, according to an analysis by Coutts, the private banking arm of RBS. Carl Astorri, http://ftalphaville.ft.com/thecut/2011/07/19/626441/first-home-buyers-still-struggling/
Companies are going out of business at a much faster rate than headline figures would suggest, the FT reports, with new data from Companies House raising questions about the anticipated pace of economic recovery. According to data from the Insolvency Service http://ftalphaville.ft.com/thecut/2011/07/19/626416/uk-business-failure-rate-higher-than-thought/
Wsj.com
Asian stock markets were mixed Tuesday, as investors stayed cautious due to ongoing debt jitters in Europe and the U.S., while utilities companies dragged the Tokyo market lower amid growing concerns of electricity shortages. Japan's Nikkei Stock Average fell 0.5%, Australia's S&P/ASX 200 was flat at 4475.8, South Korea's Kospi Composite rose 0.2% and New Zealand's NZX-50 fell 0.2%. Dow Jones Industrial Average futures were up 39 points in screen trade. In Tokyo, utilities stocks fell amid mounting concerns of electricity shortages after two power companies halted operations at their plants over the extended weekend. http://online.wsj.com/article/SB10001424052702303661904576454802137808760.html?mod=WSJASIA_hpp_LEFTTopWhatNews